On behalf of the Igbo people in the West Flanders province of Belgium, Ndigbo West Flanders, I welcome you to our website.
Our organisational goal is to bring together all sons and daughters of Igbo ethnic group of Nigeria, resident in this region,
promote our rich cultural heritage and share same with our host community thereby contributing to a harmonious co-existence
of all persons in this peaceful and beautiful part of the world.
This website is an essential tool in achieving our organisational goal. We hope you'd like it but more importantly please feel free to give us feedback where necessary.
– Onowu Kenechukwu (Kaycee) Achu | Chairman Ndigbo West Flanders
The official launch of Ndigbo West Flanders, otherwise known as "Mputa Izizi Ndigbo West Flanders"is envisaged as a major artistic, cultural and historical event of the Ibo people resident in Belgium in collaboration with all talented Ibo people all over the world. It was held in Brugge, the cultural capital of Europe, which houses major UNESCO world heritage sites.


The aim, objectives and desire of the union include the following:
To unite all Igbo sons and daughters living in West Flanders, Belgium and give every member a sense of identity.
To promote unity, brotherly and sisterly love and to enhance a harmonious and peaceful relationship among members.
To enhance a working relationship with other organizations of Ndigbo in Belgium and elsewhere whose ideals do not clash with those of Ndigbo West Flanders
To facilitate the general integration of members in the host community
To promote the Igbo cultural heritage in West Flanders and elsewhere in concert with third parties
To identify with developmental projects either solely or in concert with third parties aimed at the socio-economic and cultural empowerment of Ndigbo in Nigeria.
 The organisation can undertake any activity, commercial or otherwise, as a means to achieving its objectives.
EVENTS & QUICK INFORMATION
Monthly General Meeting
Third Saturday of Every Month
Time: 5:00 – 8:00
Venue: De Dijk
Blankenbergse Steenweg 221,
8000 Brugge
(No meetings in August & December)
SUMMER BARBECUE
KLEURRIJKE INTERACTIE 2023
Date: 1st july 2023
Time: 2pm- 9pm 
Venue: WEVELGEM PARK Vanackerestraat 16,8660 Wevelgem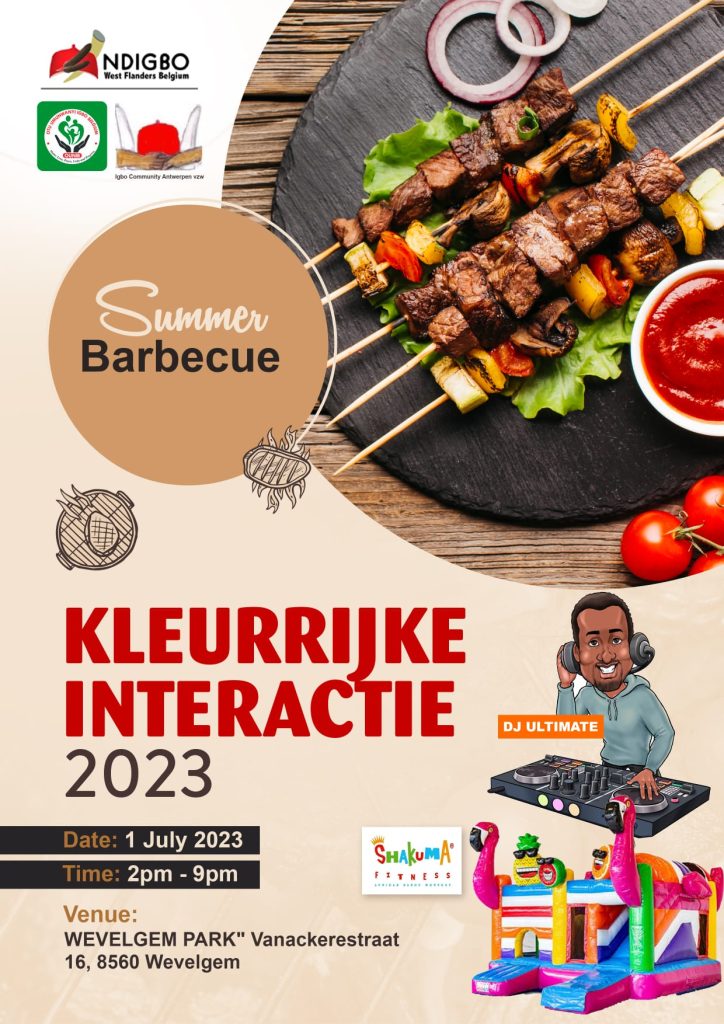 | Sun | Mon | Tue | Wed | Thu | Fri | Sat |
| --- | --- | --- | --- | --- | --- | --- |
Origin of the Igbo People
A lot of views have been proffered as to the true origin of the Igbos, but none of the theories have been proven beyond reasonable doubt. For this reason, material presented here does not suggest a complete understanding of how the Igbos originated.  Rather, the different views will be summarized here.
The Igbo make up the second largest group of people in southern Nigeria. They are a socially and culturally diverse population, living in the southeastern part of the country. The Igbo consist of many subgroups, all speaking one language [1], called Igbo.
Recent Igbo History and Formation of Identity
Before British colonialism, the Igbo were a politically fragmented group. There were variations in culture such as in art styles, attire and religious practices. Various subgroups were organized by clan, lineage, village affiliation, and dialect
Igbo Proverbs and their Meanings
An Igbo proverb, opines one of the Igbo prominent sons, Chinua Achebe, "is the palm oil with which words are eaten." Igbo proverbs are not only central to the propagation of Igbo culture, they are in fact the foremost factor in formal and familiar speeches and in other forms of popular communication.
EXPLORE SOME IGBO CULTURES
Beautiful Igbo Cultural Marriage Ceremony
OFala Igbo (Kingship Celebration)